Services
We pride ourselves on service and competence and believe the reference that anyone can give us is a recommendation to do the next contract.
AB Access Scaffolding Ltd operates in the Industrial, Commercial, Heritage/Restoration and Residential sectors. Industrial accounts for 40%, Commercial 20%, Heritage/Restoration 15% and Residential accounting for the remaining 25%. Employing 25 staff directly and a further 40 to 45 indirectly, the company specialises in contract scaffolding, scaffold & temporary works design and temporary access solutions.
Strategically located in Ballintubber East, Carrigtwohill, AB Access Scaffolding Ltd's offices are close to its main contracts at all times and ensure easy and quick access to the N25. Training of all employees is a key target of AB Access Scaffolding Ltd. The company invests heavily in staff training which is reflected in the quality and professionalism of its work.
Our ability to produce in-house design solutions allows us to take on more complex work. We have a professional team across all disciplines which allows us to complete that work in a safe manner from design conception to solution, through to scaffold installation, inspection/audit and dismantling.
Training of all employees is a key target of AB Access Scaffolding Ltd. The company invests heavily in staff training which is reflected in the quality and professionalism of its work.
AB Access Scaffolding allows for our clients to access design facilities from the beginning of any project. The full suite of facilities under the one company thus provides for a timely, fluid transition from the design phase through to the on-site erection and possible future alterations as a project progresses.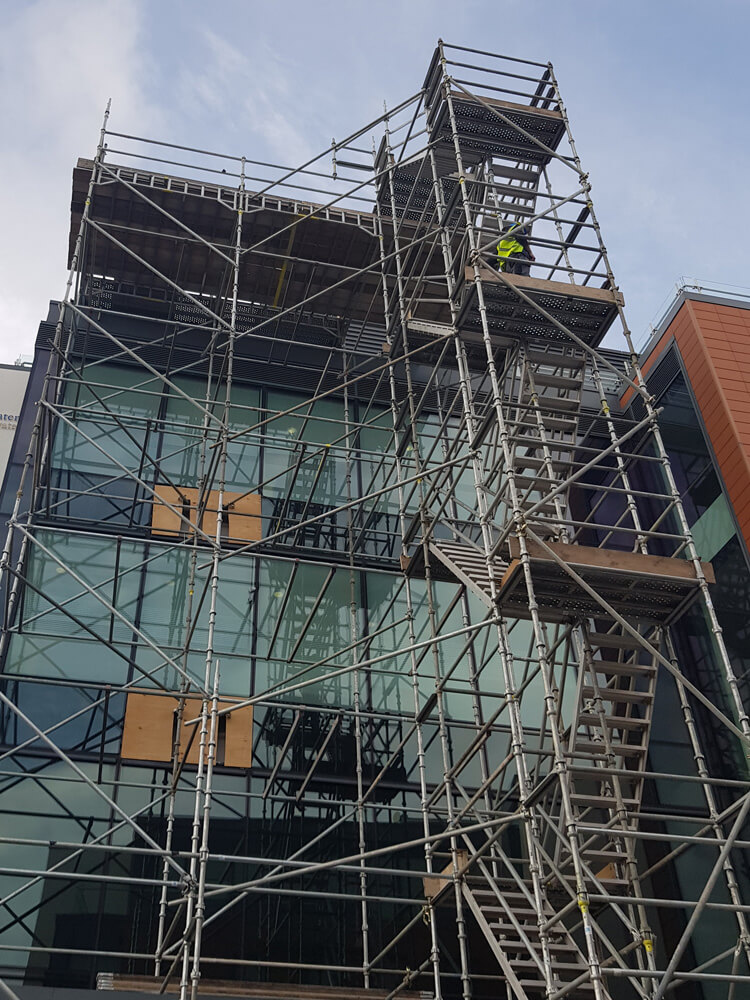 If you would like to discuss a project
call – (086) 174 8534 or email us
What makes us stand out from the rest is our quality, service, safety, efficiency and professionalism all available from the one provider.
Residential
With the constant need for residential applications be it new builds, maintenance, retro-fit or extensions, AB Access Scaffolding currently cater for over 3000 scaffolding units in the Private, Social, Commercial and Retro-Fit sectors. Our selection of traditional 'Tube & Fitting', 'Wedge' and/or 'Cup' type scaffolding allows us to provide a tailored solutions for all our clients.
With timber frame installations becoming more common place on new building schemes, we utilise our design team to optimise solutions in line with relevant codes of practice, safety standards and stabilization requirements.
Some of our main clients in this industry include O'Flynn Construction, Sigma Homes, Glenveagh Properties PLC, Castle Rock Homes, Hatley Homes, CField Construction and Wiltom Construction to name but a few making 25% of our business.
Commercial
Due to our long-standing trusted relationships with clients we have a number of commercial sites on-going at any instance. Providing be-spoke scaffolding solutions including guard-railing, Stair Access Towers, Loading Gantries, Temporary Roof Structures, Weather Proofing or 3rd Party Inspections, our team of professional on-site foremen and operatives are backed-up by our in-house design and administration teams
Commercial accounts for roughly 20% of our business with a range of applications from guard-railing solutions, to access towers and façade scaffold solutions. Commercial projects can vary greatly in size and we look to assist the client in all application solutions where possible.
Contracts have been completed on sites including, Navigation Square, Penrose Dock, UCC Student Accommodation Western Road and the Capitol.
Our clients in these projects range from main contractors to sub-contractors requiring access scaffolds for lift shaft installations, mechanical & electrical installations and protection scaffolds n-site to allow various trades maintain safe working environments while continuing to meet tight deadlines.
We have completed works for BAM Contractors, P.J Hegartys & Sons, Cumnor, Summerhill Construction, Michael Hanrahan (MAIDA) Builders, Kone, John Paul Construction, PJ Lane Construction, Keating Construction, O'Sheas Builders, McGinty & O'Sheas, John Cleary Developments to name but a few.
Industrial
With a number of industrial sites accounting for operations with safety sensitive materials (hazardous and/or flammable), or within large production and live plant environments, Our attention to detail through our safety, design and audit teams, on-site representatives, and assisted by our office staff, has allowed us to capture and maintain a number of high profile clients and industrial sites such as IDL Midelton and Gilead Carrigtwohill.
Industrial accounts for 40% of our regular business operations. With a number of industrial sites accounting for operations with hazardous and flammable materials our attention to detail through our safety, design & audit team, on-site representatives and assisted by the office staff we can provide a fully professional service to cater for our clients needs.
Similar to Commercial applications, be it on-going maintenance jobs, access scaffolds for inspection/mechanical/electrical works, or new builds on-site we are a trusted partner in the industry.
Some of our main Industrial partners and clients include, Irish Distillers Ltd. Midelton, Project Management (PM) Group, UCC Tyndall, Gilead Services, PepsiCo, MSL Engineering, Heineken Ireland, DDW, BMD, Depuy (Johnson & Johnson), Crown Roofing and Dairygold amongst our list of clients.
Heritage/Restoration
Heritage/Restoration projects are often reserved for specialist contractors and who better to assit the client in their access needs than AB Access Scaffolding. We pride ourselves in such be-spoke works, where our professionalism in the high profile, historic works means we are continually called upon by our clients.
The Heritage/Restoration sector accounts for roughly 15% of our business with quiet often bespoke solutions required due to the nature and complexity of the works involved.
These applications can often lead to involvement in some very high profile jobs in prominent locations and AB Access Scaffolding take great pride in being associated with such works and having our clients regularly place so much trust in us for their projects.
Belvelly Developments, Keating Construction, Queenstown Restoration, Ahern Brothers and RBR Construction are a number of client who choose us for the various projects throughout the country.