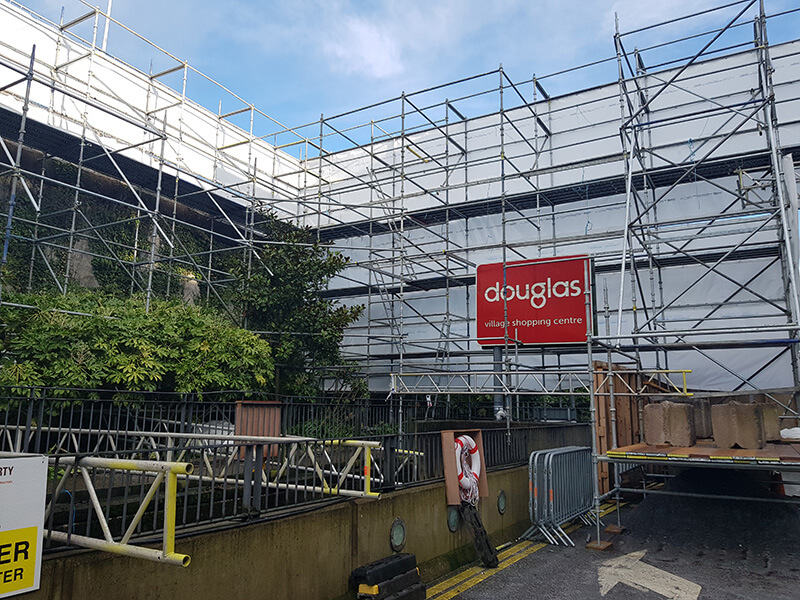 May 22, 2020 1:53 pm
Leave your thoughts
Following on from the unfortunate events at Douglas Shopping centre, P.J. Hegarty and sons were appointed to firstly secure the site prior to inspection and demolition works to be carried out. As part of the works several edge protection scaffolds were required and AB Access Scaffolding were called upon to provide suitable structures. Thereafter the demolition work being conducted due a lot of attention from passing traffic on the main transport route adjacent to the site the South Link.
For safety it was requested that a screen structure be installed along the road network to allow works progress without any rubber necking and further traffic incidents occurring. AB Access went to work in providing a design scaffold which was to remain standing for the duration of the demolition works. The scaffold needed to be free-standing and not interfering with any elements on the main road and ancillary structures.
The free-standing structure constructed along the road network was over 200metres in length and included a scaffold at the Eastern End to allow for vehicular access. The complex nature of the site, the topography, the canal, the adjacent road network and the demolition works lead to many considerations being examined for a solution. Nevertheless, AB Access worked with all parties involved to provide a safe workable solution for all.
Categorised in: Commercial, Projects
This post was written by abaccess